4 Tips for Selling Disability Insurance Like a Pro
Auto insurance and life insurance are pretty straight forward. One protects your car and the other pays benefits if the insured dies. Disability income insurance, on the other hand, can be more confusing to some. It's a product many people know very little about.
To complicate things further, the name 'disability insurance' is frequently confused with long-term disability (LTD) and short-term disability (STD) insurance which is typically offered by employers. The individual and business DI products available through the carriers we work with may have similarities to STD and LTD but they are very different.
That's where you and dibroker West come in! We know disability income insurance and can help you present it effectively to your clients. DI fits in perfectly with the other insurance products and financial planning services you're already providing. The basic sales principals are still in play but a successful DI salesperson also helps clients understand how income protection boosts their overall financial plan.
Only 48% of American adults indicate they have enough savings to cover three months of living expenses in the event they're not earning an income.* In other words, 48% of Americans would benefit from a disability insurance policy. That's where you can make a difference! These four steps will show you how to find buyers, show the need for income protection, provide the solution and complete the sale.
*Federal Reserve, Report on the Economic Well Being of U.S. Households in 2016 (PDF)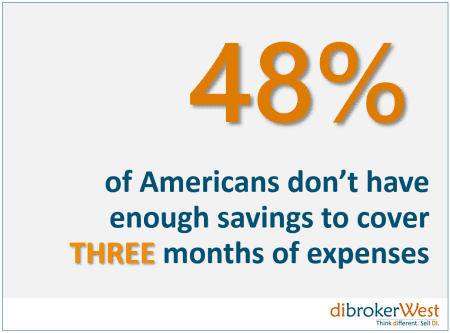 The best tip for finding DI buyers is to start with your current clients. They know you; they trust you and they value your recommendations. Let them know it's important to have a complete income replacement plan in place before they need it.
Most consumers have never been approached about the need for disability income protection. That means you have many opportunities to simply start the conversation and help clients think about protecting their most important asset, their income. Questions like "how long could you pay your bills if your paycheck stopped" and "could you survive on 60% of your current income (the amount SSDI pays)" are great questions that help clients relate the need to their unique situation.
White Collar Buyers – a No Brainer
White collar workers typically understand the value of disability income insurance. White collar workers also can normally afford DI coverage very easily so they're a no brainer when it comes to prospects. But most Advisors don't work with white collar workers exclusively so that may not be the bulk of your business.
TIP: Most white-collar professionals have a considerable amount of student loan debt. Discussing the student loan rider – available from many carriers – could be another selling point showing the need for DI.
Find the Middle… Market
Middle market workers are often described as workers who are not the richest nor the poorest consumers. This segment is frequently overlooked when it comes to having or needing DI protection. Middle market folks can afford DI but they typically don't understand the value as readily as white-collar workers. For many Advisors, your middle market clients are an untapped resource. Below are some middle market client profiles you should look for.
Individuals and couples ages 30 – 50
Incomes between $40,000 – $150,000
Family oriented
Recently married
New parents
Homeowners
Risk adverse – having something to protect and not wanting to risk financial loss
Middle market occupation or job titles could include:
Accountants
Chiropractors
IT Professionals (i.e., Project Managers, Business and Systems Analysts, Network Engineers, Database Administrators, etc.)
Mid-Level Managers
Nurse practitioners
Physician Assistants
Physical, Respiratory and Occupational Therapists
Software/Web Developers
Teachers – especially Post-Secondary Teachers (i.e., college and university professors, graduate assistants, etc.)
Good Places to Find Perspective Clients
Current clients – You already have a pool of prospective DI clients. Search your book of business and look for clients who fit the middle market profile mentioned above. Also, clients who have recently experienced a life event, such as getting married, becoming new parents or buying a home, may feel they're ready to make financial plan changes.
Civic organizations – Join a local civic organization – think Lion's Club, Rotary Club, local Chamber of Commerce, etc. – and make yourself known to the members of your community. However, don't join an organization only to find an unsuspecting crowd for a sales pitch – they'll see right through you! Find an organization you're interested in, an organization doing something in the community you believe in or a group of people you relate to.
Professional Associations – Don't forget about professional associations like state and county bar associations and local chapters of national organizations like the American Institute of CPA's, the American Medical Association, etc. Placing ads in newsletters and offering to speak to members during meetings are great ways to get leads and start the conversation with a new audience.
Referrals – Don't forget the tried and true… ask everyone you talk to – family members, friends, neighbors, clients – if they know someone who could benefit from the services you provide.
Step 2: Show the Need for Disability Income Insurance
This is the most important but often overlooked part of the pitch. Be sure to talk about the
need for disability income insurance
before jumping to the solution. Most clients don't even realize protecting their income is a problem. They'll need to understand the problem before they'll be receptive to a solution. Talk about what's at stake for them personally if their income suddenly stopped.
Start by finding out what's important to your client. The things they value most – their family, home, financial plans, kids' college funds – these are the priorities they'll want to protect. Based on your conversations and knowing your client, you can help clients identify the things that are at risk if they were unable to earn an income.
Step 3: Provide the Solution
At this point, your client has determined what is most important to them. They've considered the risks and the impact of losing their income. Now is the time to discuss how disability income insurance can help provide the solution. However, clients don't want to be "sold." They want someone who can explain how disability insurance works, help them consider the various levels of protection and feel confident that they're making the right decision.
TIP: Help your clients consider how soon they would need benefits to begin and the length of time they'd like to be covered. Waiting/elimination and benefit periods for disability income insurance policies affect the premium. Every situation is different and it's important for clients to feel they have coverage that meets their need and fits their budget.
Step 4: Deliver the Policy and Plant Seeds for the Future
Policy delivery is the perfect time to demonstrate your professional value and excellent customer service. Be sure to highlight how smooth the process was… and ask for referrals.
dibrokerWest receives future purchase options and annual update notices from most of the carriers we work with. When we receive these notifications, we'll email them to the Advisors who can present the opportunity to their client.
Delivering the policy is the final step for this transaction. While you're closing this transaction, it's a perfect opportunity to cultivate your long-term client relationship. Don't forget to mention future purchase/upgrade options for this policy (if applicable) and other services or products that might be relevant to their situation. Remind clients that their income is now protected against an illness or injury.
If you have additional questions about how to sell disability income insurance, please contact your local dibrokerWest Sales Representative. If you're not currently working with a Sales Rep, please give our office a call or check out the interactive map on our
Contact Us
to find your local Sales Rep.